Make a Smart Move Towards Better Health
VANA AM&PM Premium Supplements
Unlock the power of daily and night wellness with VANA's Smart Liquid™ AM and PM formulas. Scientifically-backed and formulated for optimal health, VANA's liquid nutrition supplements, in combination with an AI-driven health tracking app, aim to significantly enhance your physical and mental well-being.
Make a Smart Move Towards Better Health
VANA AM&PM
Premium Supplements
Unlock the power of daily and night wellness with VANA's Smart Liquid™ AM and PM formulas. Scientifically-backed and formulated for optimal health, VANA's liquid nutrition supplements, in combination with an AI-driven health tracking app, aim to significantly enhance your physical and mental well-being.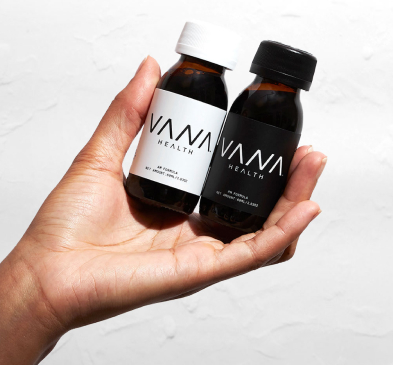 Make a Smart Move Towards Better Health
VANA AM&PM Premium Supplements
Unlock the power of daily and night wellness with VANA's Smart Liquid™ AM and PM formulas. Scientifically-backed and formulated for optimal health, VANA's liquid nutrition supplements, in combination with an AI-driven health tracking app, aim to significantly enhance your physical and mental well-being.
We're working around the clock to build our new website. In the meantime, feel free to browse and shop our products on the current site.
What is the vana AM & PM System ?
TRACK YOUR PROGRESS EVERY DAY
Any of VANA products comes with access to the VANA Health iOS app (Android App coming soon) so you can track your progress, on your terms, on the go!
Available on:
Experience Health Transformation with AI-Driven App
Embrace the future of health tracking with the VANA AI-driven app. Tailored to complement your unique VANA experience, this app empowers you to monitor and witness your health progress dynamically.
Unlocking the Power of Superfoods for Optimal Health
The science
Discover the scientific foundation behind VANA Health's AM & PM formulas, harnessing the potential of polyphenols and carefully selected superfood ingredients. Improve your health and well-being with VANA Health's AM & PM formulas – the perfect combination of science, tradition and excellence.
Recommended by Top HealtH Experts
Nutritionist working to better lives through the healing power of food.
For all my clients that I recommend 5 servings of fruits and vegetables that can't consume 5 servings of each a day, Vana AM and Vana PM is the perfect addition to their diet.
Scientist on a mission to heal the human body through nature.
My philosophy for recommending the VANA system to my patients is simple with two Latin phrases: "Natura in Minima Maxima", meaning nature is the greatest in the smallest of things, and "Natura Sanat Medicus Curat", meaning the physician treats, but nature cures.
World renowned dermatologist, enhancing the body from the inside out.
I'm confident in VANA's ability to naturally improve skin appearance, specifically a decrease in cellulite.
Milos Raonic is passionate about constantly learning new ways to improve his health and help others do the same.
Milos has used VANA to improve his performance, focus, endurance, and recovery and believes it is a staple in his physically demanding lifestyle.
Renowned in the world of high fashion, Ana Antić is always on the look-out for the latest health and wellness products to add to her routine.
As VANA's Partner and Lifestyle Advisor, Ana represents those like her and her clients who make their mental and physical wellness a priority.
Dr Felix Agakov (PhD, MSc, CEO Pharmatics), is an entrepreneur and expert in machine learning for digital health and precision medicine.
He has worked extensively on combining data- and evidence-based methods for long-term conditions, and on multi-task and transfer learning methods to improve the data-efficiency and generalization properties of AI models beyond training populations.
Testimonials
Victoria Baldesarra, Hollywood Actress
@vicbaldesarra
I absolutely love my VANA, after only a month it's already become an essential part of my morning and evening routine! I love the taste, it's like having a fruity treat and I've started really looking forward to taking it every day. I've suffered from anxiety and stress, which is so hard to treat naturally, but the lemon balm in the formula has reduced both so much! I can't recommend it more!
Alvaro Nūnez, CEO, Super Luxury Group, Miami, Florida
@alvaronunez
I love everything about VANA, the packaging makes for a very satisfying unboxing each month. After a few months of taking it, I feel fully energized, rested, and focused every day. My quality of sleep is so much better and I have noticeably more energy throughout the entire day. I don't like coffee because it gives me the jitters but luckily VANA gives me even more energy without any bad feelings! Totally recommend it!
After using VANA for over a month, I've noticed some incredible changes. As a professional athlete, my rest is so important and VANA has helped me get longer and better sleep. My endurance and performance is better because of VANA's recovery improving properties and my body feels ready to compete! I recommend VANA for anyone trying to up their game.
I'm Paul Fisher, a talent agent who's worked with famous faces like Naomi Campbell, Stephanie Seymour, Carre Otis, Nicky Hilton, and more. I host the hit TV series "I Can Make You a Supermodel" and prioritize my models' well-being. Recently, I faced health issues related to inflammation and tried various remedies without success. A friend recommended Vana, and after 30 days, a blood test showed miraculous improvements. I'm committed to using Vana for life. Thanks to the Vana team – you're amazing! If you have PSA or inflammation issues, start Vana immediately; it's a life changer!
VANA has become a key supplement for me and a part of my daily routine. Since taking VANA, my energy levels have gone up and my overall mood is much better on a daily basis. I'm performing at the top of my game and my body feels better than ever!
Vana is an amazing product! Not only does it help with your energy, but the weight loss is incredible. I'm so happy with the positive changes Vana has brought. I'm loving my VANA! I've taken it for 2 months and it's already a necessary part of my daily routine. It gives me so much energy and I've lost weight without changing my diet or exercise habits. VANA's brought me so many positive changes and I get so excited to receive my chic VANA box every month. It's a life changer!
Coby Phillips, West Palm Beach FL
VANA is my absolute favorite wellness product. I've been using it for a while and the benefits I've received are on another level. It's lowered my blood pressure, my post-workout joint and muscle recovery is much faster, and the energy and clarity I've got while taking VANA is a game changer. I will be taking VANA for the rest of my life.
Gus Parisis, New York, USA
After my third week on VANA AM and VANA PM system … my prostate symptoms have greatly improved. Less trips to the bathroom and much less pain. I am sleeping better and I feel much more energetic! I have never felt better!
I was so excited to receive my VANA, the packaging and bottle are so sleek that I couldn't wait to open it up. I've been using it for a month now and it has brought a perfect balance to my day and wellbeing. I've mainly noticed how great my skin looks! My cellulite has gone down so much and all my skin feels firmer and tighter. I have no complaints about VANA and can't recommend it more!
Julia Winter, RMT, Vancouver, BC
As an active sports enthusiast, I use VANA to enhance my energy, recovery, and focus. It has improved my game precision and post-match recovery, providing me with better energy for subsequent activities. I highly recommend using VANA before physically demanding sports or competitions as it gives me a competitive edge. If you're passionate about sports, seeking that edge, and elevating your performance. VANA is a worthwhile investment for achieving your peak performance!
Jermaine Haley, Professional Basketball Player
As a professional athlete, VANA Health has helped me recover faster from my daily workouts and games. Since I started using VANA I have been noticeably less sore and have a faster recovery time. This has allowed me to go harder in my training sessions and optimize my time in the gym. I recommend anyone who is looking to recover faster from their workouts to having an energy boost thorough out their day to try VANA's AM and PM formula!
After 20 days of taking VANA system, I am in better health and feel more energetic. I am less tired and feel more rested, with same hours of sleep as before. I have less appetite and earlier satiety. I am more hydrated, and I don't need same amount of water I used to drink. I am experiencing faster and better muscle recovery/healing and I am more powerful during exercise. My skin texture is improving – my cellulite is improving!
Dimitria Parisis, West Palm Beach, FL
I've taken VANA, diluted with water, daily for two weeks. I usually get a bit run down throughout the week but with VANA, I've been able to work out every day without my usual fatigue. I typically need to take a rest day a few times a week but now I have much higher energy and the ability to consistently exercise without losing steam. I'm loving how VANA has changed my routine and am looking forward to seeing how it helps me long-term!
Billy Phillips, President & CEO Toon Studio, Beverly Hills, CA
My son first told me about VANA a few years ago and I've been taking it for about 2 years now. I did a lot of research on VANA and it's ingredients and believe it is far more powerful than any other comparative product. In my everyday life, I feel extremely energized and focused every day. I've noticed I haven't gotten a cold once since using it and believe VANA has boosted my immune system. There's no doubt that VANA is a true superfood and I think everyone can benefit from using it.
Zahra Lahbabi, Madrid, Spain
I love the taste of VANA AM & PM. They both taste nice, yet I can taste the herbal essence, which reminds me of natural medicine. As soon as I drink it, I feel it's working its magic inside of me. I feel like I can take on anything the day brings my way. At night I sleep like a baby. I recommend it to everyone to try it for themselves.
Ana Antic, Celebrity Stylist & Brand Advisor, Madrid, Spain
@anaantic
I've been using VANA for about three months now and I don't think I can ever go back! My sleep is incredible and I have so much energy all day. I've already noticed my skin is smoother and firmer all over, especially my thighs because my cellulite has decreased a lot. I've been telling all my friends they have to get on VANA and I love being able to show them the beautiful packaging and see them have a special unboxing experience. I think everyone should try VANA and know they'll be eager to share it.
Sebastian Pearson, CSCS, CSAC, BA, MSc, Rugby Canada Strength & Conditioning Coach NSM7's
VANA is a game changing product that provides the next level for developing a healthy lifestyle and body. Since using it for about a month, I'm sleeping way better, especially while travelling when I suffer from jet lag. It's an incredible product that I think all of Rugby Canada should be taking.
David Phillips, Co-Founder Jurny, Inc., Los Angeles, CA
I've known about VANA for a long time and was eager to try it and I have to say it does not disappoint. I've taken it for a month and noticed incredible results. I have so much energy and my joint pain has gone down. I'm amazed at how much VANA impacts post-workout recovery, I can have a super intense workout and feel great and ready to do it again the very next day! I can't imagine not using VANA and am excited for others to try it too.
Trying VANA was one of the best decisions I've ever made. After two months, my sleep schedule is amazing, my nights are restful and my days are full of energy. My skin looks better than ever, it's much tighter and so smooth. I think anyone can improve themselves using VANA.
Sergio Carrallo, Professional Football Player FC Real Madrid, Madrid, Spain
@sergiocarrello
I've been really enjoying taking VANA. It's a must-have addition to my routine. I've felt much more active and energized since taking it. I feel like it's given me a new-found vitality that I didn't even know I was missing. I would recommend it to anyone, it truly works but you have to try it to believe it.
Dr. Betty Parisis, Family Practitioner, New York, NY
I love this product and highly recommend it. The VANA formula is unique in that it is a pure derivate of the ingredients in the product. There are NO artificial additives or fillers, as you would see in over the counter supplements. After taking it for four weeks I feel energized with VANA AM, and my sleep has been more restful with VANA PM dose!
Elias Ergas, Rugby Canada National Mens 7's Team, West Vancouver, BC
As a national-level athlete, I started using VANA to enhance my training and nutrition. The polyphenols and antioxidants in VANA proved to be beneficial, as I experienced faster muscle recovery and reduced post-workout soreness. Unlike other supplements, VANA provided a natural boost of energy without any crash or dip. I'm excited to replenish my stock of VANA and highly recommend it to anyone seeking a happier, healthier, and stronger life. Investing in good health is crucial, and VANA is worth every penny.
Shawna Gnutel, MA, RMT, Vancouver, BC
VANA is a premium formula that will enhance your workout, endurance and stamina. I highly recommend this product for its powerhouse ingredients and health benefits. You will quickly notice the improvements to your lifestyle and feel the results of better health. VANA works and I would recommend it to anyone who wants to live their best life.
For me, health and feeling good have always been a priority so I'm so glad I found VANA Health. VANA makes you an improved version of yourself. After 4 months, I have so much more energy throughout the day, my body feels restored, and my skin is glowing! I would absolutely recommend VANA to anyone.
Javier Parada, Co-Founder of Bio Drip Spain
Biodrip
VANA is a fundamental, convenient, and high-level nutritional supplement. After taking VANA for three months, I've noticed I have a lot more energy in the mornings and my sleep quality has drastically improved. VANA tastes good, it's a next level product, and I would absolutely recommend it to everyone.
Health success stories
Milos Raonic is a Canadian professional tennis player who is known for his powerful serve and aggressive playing style. Born in Montenegro, he moved to Canada with his family when he was just three years old.
Read Story